Laser projectors are a step up from LED models. Their internal design produces brighter, sharper images. You also get a broader range of colors. We've reviewed our five favorite models to help you decide which is the best laser projector for your home theater room. Our favorite is the Optoma CinemaX P2 Laser Projector (>>> Check it's pricing here on Amazon).
Best Laser Projector Models in 2022:
Optoma CinemaX P2
BenQ V7050i
ViewSonic X2000B
Epson LS300
Samsung LSP7T
Resolution
3840x2160
3840x2160
3840x2160
1920x1080
3840x2160
Contrast Ratio
2,000,000:1
2,000,000:1
3,000,000:1
1,500,000:1
1,000:1
Brightness (Lumens)
3,000 ANSI
2,500 ANSI
2,000 ANSI
3,600 ANSI
2,200 ANSI
Throw Distance
1.5' - 2.2'
0.2' - 1.1'
1.0' - 2.4'
0.1' - 1.3'
0.8' - 1.4'
3D Modes
YES, Full HD
YES, Full HD
YES, Full HD
YES, Full HD
YES, Full HD
Screen size
85" - 120"
70" - 120"
65" - 150"
61" - 120"
90" - 120"
Input lag
67ms
69.1ms
40ms
No data
No data
Price

Find on Amazon





ProjectorScreen.com





Bhphotovideo.com

Find on Amazon





ProjectorScreen.com





Bhphotovideo.com

Find on Amazon





ProjectorScreen.com





Bhphotovideo.com

Find on Amazon





ProjectorScreen.com





Bhphotovideo.com

Find on Amazon





ProjectorScreen.com





Bhphotovideo.com
Contrast and Brightness
You want a bright picture. You're not always watching movies in the dark. You need a projector with a bright laser.  A projector's brightness is measured in lumens. The higher the number, the brighter the picture even in transient light.
Inky blacks and brilliant whites are what you want to see on the screen. The projector's contrast ratio lets you know what to expect. You want a projector with a higher contrast ratio. For example, one with a contrast ratio of 1,000:1 can't produce the same deep blacks and crisp whites as a 1,000,000:1 ratio.
Best Projector for Contrast and Brightness: Optoma CinemaX P2
Color Accuracy
When the colors are off, the image looks unreal. A great projector needs to produce accurate colors and be adjustable. You want to be able to calibrate the colors to account for ambient light and the color of the room. Looking at the image on your projection screen should be like looking out of a clear glass window on a bright sunny day.
Best Projector for Color Accuracy: BenQ V7050i
Sound Quality
You won't find a projector that can produce surround sound, at least not yet. You do want an improvement over your TV's fuzzy-sounding speakers. How much sound a speaker can produce is measured in watts. 2-watt speakers are a small improvement over your TV, but a soundbar or multi-channel system is best. You get bass and mid-range frequencies, great for playlists and YouTube videos.
Best Projector for Sound Quality: Samsung Premiere LSP7T
Resolution
The number of pixels in a picture is the resolution. Higher resolutions or the number of pixels gives you more detailed and sharper images. Affordable home theater projectors typically have 1080p, otherwise known as high-definition resolution. Higher priced ones have 3840 x 2160p per image. 4K projectors are becoming more common and do produce stunningly details images.
Best Projector for Resolution: Optoma CinemaX P2
---
Projector Reviews
Optoma CinemaX P2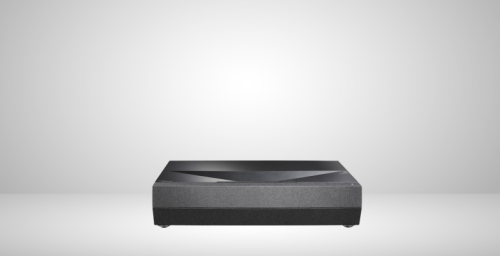 With a 4K resolution and a 2,000,000:1 contrast ratio, the CinemaX P2 produces immersive onscreen images. Along with sharp, detailed images, the 6-segment color wheel delivers accurate, vivid colors. The 3,000 lumens laser light source ensures ambient light isn't a problem.
It's a smart home cinema projector. The SmartFiTT app automatically aligns images. The P2 is also a breeze to use. The interface is user-friendly. You can also connect to Amazon Alexa or Google Assistant for easy voice control. It also supports IFTTT technology. With a throw distance of fewer than two feet, the projector's great for large and small spaces.
The 40-watt soundbar gives you good volume. There are two woofers and full-range drivers, so you get rich bass and clear higher ranges. It's not surround sound, but you don't need external speakers to hear your movie. Gamers will be disappointed with the high input lag. Even in gaming mode, it hovers around 50ms.
Pros
Easy, flexible installation
Ultra-short throw
Power built-in soundbar
Bright, sharp picture
Dynamic contrast ratio
Cons
High input lag
Priced higher than some other 4K laser projectors
---
BenQ V7050i
The BenQ V7050i is an award-winning, ultra-short throw projector that produces stunning 4K images. With 8.3 million pixels, images are incredibly detailed, and the projector also boasts DLP technology. You get a crisp, sharp picture without any blurring or fuzzy images.
A combination of HDR-Pro, HLG, and DCI-P3 ensures colors are vibrant and accurate across the spectrum, and it's where the projector stands out from some of the competition. The lumens rating of 2,500 may seem a little low, especially in bright spaces, but the projector comes with multiple picture modes. You can calibrate the color temperature to match the amount of lighting in the room. The only downside is the slight green cast that can appear when the color temperature is on the Native setting.
Since it is an ultra-short throw projector, installation and setup are a breeze. You only need around 8" of space between the lens and screen to cast 123" images. Onboard image alignment functions center the picture to match the screen's size.
One feature that stands out is the motorized lens cover. A motorized cover protects the lens when the projector isn't in use. It's a great feature to have, especially if you have pets or children that may accidentally scratch the lens.
While the projector does come with 2 HDMI ports, one is required for an Android TV stick. It does limit the number of devices you can connect. Netflix subscribers will also be disappointed to learn they can only cast the streaming service from a laptop or HDMI connection. Check the comparison vs. Samsung LSP9T
Pros
Accurate, vivid colors
3D content support
High contrast rating
Bright images in ambient light
Protective, motorized lens cover
Cons
The projector does not come with a gaming mode and input lag is higher than average
A lack of multiple HDMI ports limits connectivity
---
ViewSonic X2000B
Offering something for everyone, the ViewSonic X2000B is an ultra-short throw projector capable of producing immersive 4K images. HDR10 technology and a dynamic contrast ratio of 3,000,000:1 ensures images are crisp, clear, and realistic. SuperColor+ technology gives you accurate colors beyond the Rec.709 spectrum. Blurry images during fast-paced scenes also aren't a problem thanks to the onboard Frame Interpolation Technology.
The lumens rating is a little low at 2,000, but since it is an ultra-short throw projector you can counteract most ambient light. However, images may appear faded in some brightly lit spaces.
Casual gamers aren't going to notice the 40ms input lag, however, the laser projector is designed for movies and shows. The latency speed isn't fast enough to support most multi-player games.
Where the projector stands out, along with image quality, is its internal Harman Kardon 10-watt speakers. With a dedicated tweet and woofer, you get impressive audio without the need for external speakers.
Connectivity also isn't a problem. Along with the standard ports, the projector boasts wireless capabilities. 5GHz onboard Wi-Fi ensures a stage Bluetooth connection. The projector can also connect wirelessly to most of your devices.
Pros
Realistic and vibrant colors
Dual onboard 10-watt speakers
Wireless and Bluetooth connectivity
4K resolution
Ultra-short throw distance
Cons
The input lag is too high for most gamers
The projector does not support voice control from any streaming service
---
Epson Epiqvison Ultra LS300
The LS300 is a more affordable laser projector. It has a bright picture, with vivid colors. The 3,600 lumens light takes care of most ambient lighting. 3LCD chip technology and 10-bit color processing give you bright, stunning colors on all your content up to 4K.
It's an ultra-short throw projector. You need less than an inch to cast 100" images. Even though the LS300 weighs slightly over 15lbs, its short throw distance makes it a versatile projector. Setting it up does take some practice. The projector is designed for placement in front of the screen, so image alignment tools aren't necessary. You can manually focus the lens, but that's about it.
You get wireless networking capabilities, along with HDMI and USB ports. Google Assistant and the Android OS make it an easy projector to use. It also comes with streaming apps. Plug the LS300 in, and you're ready to stream your favorite entertainment. Click here for our more detailed review of Epson LS300
Pros
Affordable price
Easy to toset up and operation
A bright, vivid picture
Full HD HDR support
Wireless networking
Cons
The fan is loud enough to block audio from the 5-watt speakers.
Some popular apps aren't included like Netflix and Amazon Prime.
---
Samsung Premiere LSP7T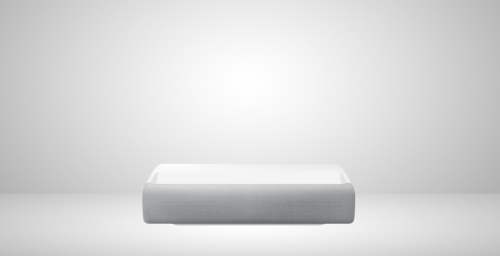 You get cinematic quality images and sound with the Samsung Premiere LSP7T. It's a compact, ultra-short throw projector. Give it less than one-inch, and you get 100" onscreen images. The projector is small but weighs 20.1lbs. It's surprisingly heavy, considering its size.
Connectivity isn't a problem. The LSP7T has multiple ports. Including USB, HDMI, and tuner. Wireless networking lets you connect to external speakers without adding another cable to your setup. Streaming apps, along with Google Assist, Bixby and Alexa make using the projector a breeze.
A 2,000,000,000:1 contrast ratio, combined with the 4K UHD laser, gives you bright pictures and stunning colors. With PURCOLOR technology, you'll see colors as nature intended. The 2,200 lumens laser light source ensures images are bright and clear.
You also get the 2.2 channel audio system. Built-in subwoofers and full-range drivers produce impressive sound. Bass is rich and deep, while mid and high ranges are crystal clear. You get dramatic sound to match the dynamic picture. For our more detailed review of the LSP7T click here.
Pros
Ultra-short throw
4K resolution
2 channel sound system
Dynamic contrast
Voice-control
Cons
The 2,200 lumens laser light doesn't produce a bright picture in low light
Set up is difficult if the projector isn't center on the screen
---
Conclusion
You can get good picture quality with a lower-priced home theater projector, but the Optoma CinemaX P2 is worth its price. Comparing the P2 against the other projectors, it comes out ahead (>>> Find on Amazon).
It's easy to set up and use. The six-segmented color wheel and 3,000 lumens laser light produce bright, vivid images. Gamers won't like the 50ms lag time in gaming mode, but it is acceptable. The P2 is worth the investment. It doesn't have the sound quality of the Samsung Premier LSP7T, but you won't be disappointed.
REFERENCES: