Laser projectors have several advantages over ones that use lamps. You get brighter images, and you don't have to worry about replacing a projector bulb. Laser projectors also tend to have a shorter throw distance. It makes the projectors easier to set up and you have more options on where you can install them.
The laser light does improve image quality, but what about resolution? It's also a factor in how pictures appear on the screen. 4K resolution does produce the best image quality, and there are two laser projectors that you'll want to look at. Both are also easy to install. When it comes to the Epson LS500 vs the Optoma P2 it is a close comparison.
You will get brighter, more accurate colors with the LS500 (>>> Find on Amazon). Gamers will also choose it over the Optoma P2. However, if sound quality and included smart features are important the P2 is the better choice for you.
Epson LS500 vs Optoma P2 Specifications:
Both models are 4K laser projectors and have other aspects in common. Some of the differences will help you decide which one to spend your money on.
Image Quality
Both the LS500 and P2 are 4K projectors. You get bright images with sharp details and true-to-life colors. Combined with HDR10 technology, you'll enjoy cinematic quality images at home. Even though you won't be disappointed in either model, the LS500 does produce a better picture.
Unlike the 6-segmented color wheel used by the P2, the LS500 comes with 3-chip 3LCD technology. Colors are more accurate, especially when combined with 10-bit color technology. The contrast ratio is the same for both projectors at 2,000,000:1. You'll also get a brighter picture with the LS500. With a lumens rating of 4,000, you can leave the lights on when you're using the projector.
Better Image Quality: Epson LS500
Gaming Quality
Not all projectors come with the specs gamers need. Large, bright images are a bonus. You can see in dark scenes reducing your chances of losing a life. Image clarity isn't all gamers are looking for. Input lag and refresh rates are their primary concerns.
The P2 has an input lag of around 50-55ms, while the LS500 boasts a lag time of 16.7ms. It is still a little high for serious gamers, but it's more than adequate for casual play. The refresh rate on the LS500 is also 60Hz. You won't notice any blurring or image delay in your fast-paced games.
Better Gaming Quality: Epson LS500
Audio Quality
Most projector speakers are an improvement over your TV's tiny ones. It doesn't mean that you can replace your sound system. The projector speakers only improve volume, not overall audio quality. The LS500 is an example with its 10-watt system.
Optoma took a different approach to audio quality with its P2. The compact projector comes with a NuForce soundbar. With 40-watts, you're not rockin' the house, but you do get great audio quality.
Better Audio Quality: Optoma P2
---
Epson LS500
The Epson LS500 comes close to replacing your current entertainment system. For those that are just building one, the projector covers most of what you need. It comes with a 100" screen that blocks ambient light. When you add in the bright 4,000 lumens laser light, you get an amazingly bright picture.
You won't have any problems streaming apps. The LS500 even supports streaming TV apps. It's easy to watch your favorite Prime, Hulu, and Netflix shows, along with other content. You do get an included remote, but you can also use voice assist. You are limited to basic search functions, but it is easier than using the remote.
There are two areas where the Epson LS500 stands out. Image quality and input lag. At 16.7ms you can easily play your fast-paced games. A 60Hz refresh rate ensures smooth frame-by-frame images. You won't see any blurring or noticeable pauses between frames. For a more detailed LS500 review click here.
Pros
4K resolution
Short-throw ratio
Dynamic contrast
Fast refresh rate
Low input lag
Cons
The 10-watt speakers are lacking in power and audio quality
---
Optoma P2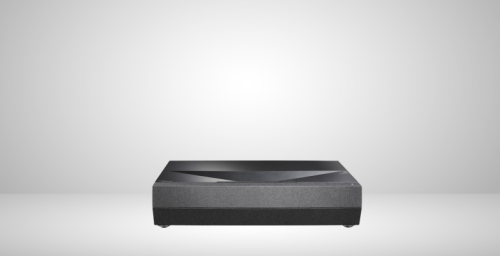 Image quality is exceptional with the Optoma P2. It comes with a 2,000,000:1 dynamic contrast ratio and 6-segmented color wheel. You'll get bold, accurate colors, with crisp whites and deep blacks. The 3,000 lumens laser light is bright enough to handle most ambient light.
The short-throw projector is simple to install. With around two-feet of space, you can throw 100" images. Keystone correction allows for a flexible installation. You can also take advantage of the SmartFitt app. When you download the app, it will automatically center onscreen images.
With IFTTT, you can easily connect the P2 to other smart devices. You also get Alexa and Google Assistant, so the included remote is rarely needed. You can search for content and control the projector's functions. It also comes with a 40-watt soundbar by NuForce. It's a definite improvement over the low wattage speakers that come with other 4K laser projectors. Click here for our more in-depth Optoma P2 Review.
Pros
4K resolution
NuForce soundbar
Easy operation
Flexible installation
Smart device compatible
Cons
The P2 has a 55ms input lag that makes it too slow for most gamers
---
Conclusion
Comparing the Epson LS500 vs the Optoma P2 depends on what you're looking for in a short-throw 4K laser projector. You'll get a brighter picture with the LS500. Gamers also love the low input rate and fast refresh time (>>> Check current price on ProjectorScreen).
The P2 does have better audio quality and is easier to set up thanks to the included functions.
When you're deciding between the two, consider what you'll use the projector for. It will make it easier to make a choice.
REFERENCES: