Most home theater projectors produce stunning HD images whether you're streaming content or watching a disc. Chances are you don't have any complaints about image quality, but you can do better. 4K UHD projectors give you stunningly bright, crisp, and clear images and most are as simple to set up as the full HD models.
Two projectors that are worth taking a look at are the LG HU85LA and the Optoma Cinemax P2. Both are short-throw 4K UHD projectors, but the Optoma Cinemax P2 produces a slightly brighter and more vivid picture. Both models are a breeze to install, though the P2 from Optoma is a few pounds lighter. The Optoma P2 also comes with plenty of extra features (>>> Check current price on Amazon).
These two home theater projectors are similar, which is why it always helps to take a closer look at and compare each model's specifications.
LG HU85LA VS Optoma Cinemax P2 Specifications:
Each of these projectors comes with several of the same specifications and features, and comparing the two will make it easier for you to know which is the right one for your home entertainment setup.
Image Quality
You'll get amazing image quality with either home projector. Both boast true 4K UHD resolution and come with HDR10 support. 10-bit color processing technology ensures accurate colors and a dynamic contrast ratio produces crisp whites and rich, inky blacks.
The picture is slightly brighter with the Optoma Cinemax P2. It comes with a 3,000 lumens rating, compared to the 2,700 lumens you get with the HU85LA. You'll also notice colors are more vivid on the P2, due to the 6-segmented color wheel that also helps prevent colors from appearing faded.
Better Image Quality: Optoma Cinemax P2
Ease of Installation and Use
Installing and aligning images is a breeze with both models, though the Optoma P2 is a couple of pounds lighter. You won't want to move either projector around, they both weigh over 20 lbs., but you might find it a little easier to get the P2 projector out of the box. It also comes with an Android OS for easy operation.
You only need a little over a foot of space between the projectors and screens to throw 100" images. Digital keystone correction that includes horizontal and vertical alignment, along with automatic zoom makes aligning on-screen images quick and easy. If you're having problems getting images to the center, you can use the convenient geometric correction function.
Easier installation: Optoma Cinemax P2
Included Features
There are plenty of included features with the two home theater projectors, but the Optoma P2 comes out ahead. Both come with Amazon Alexa, Google Assistant, and streaming apps while the P2 includes IFTTT support.
One function that the HU85LA has that's missing from the Optoma P2 is Miracast support. It allows you to mirror connect from one device and watch it on the projector. With all of the other features the P2 projector comes with, the lack of Miracast is not a deal-breaker.
Better Included Features: Optoma Cinemax P2
---
LG HU85LA
You won't be disappointed if you take the LG HU85LA home. You get immersive 4K UHD images, with bright, true-to-life colors. The dynamic 2,000,000:1 contrast ratio ensures images are vivid and clear, with defined details. The 2,700 lumens rating keeps on-screen images bright, even in ambient lighting.
The projector is easy to install and operate, but it does weigh close to 27-pounds. You won't want to move the projector around, so plan carefully for installation. Thanks to both digital horizontal and vertical keystone correction, along with automatic zoom, centering images on the projector screen is a quick and easy process.
There are plenty of in/outputs for your external devices. The projector also comes with wireless networking. Two 5-watt speakers pump out acceptable quality sound. You won't "rock the house", but you will enjoy a better audio experience than with your tiny TV speakers. With the included remote, you won't have any problems controlling the projector from your favorite chair.
Pros
Flexible installation
Vivid, accurate colors
Easy set-up
Dynamic contrast ratio
HDR10 support
Cons
Colors can appear faded during fast moving frames.
---
Optoma Cinemax P2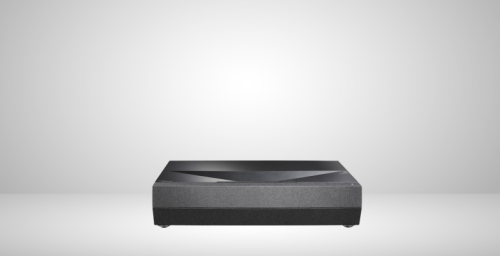 The Optoma Cinemax P2 is designed to produce bright, vivid images in almost any lighting. 4K UHD resolution, combined with glass optics, and 2,000,000:1 contrast ratio ensures onscreen images are crisp, detailed, and with accurate colors. To prevent color bleeding and fading, the projector uses a 6-segmented color wheel, along with 10-bit color processing.
Even though the projector weighs a solid 24-pounds, you won't have any problems with installation. Once it's in place, aligning on-screen images only takes a few minutes. Digital zoom, along with horizontal and vertical keystone correction takes care of centering the images. It also comes with autofocus and geometric correction.
You won't have any problems getting streaming content on the screen. The projector comes with streaming apps, along with wireless networking. Add in two 20-watt speakers and you can have a theater experience at home on your couch.
Pros
Accurate, vivid colors
Easy operation
Powerful built-in speakers
HDR10 support
Dynamic contrast
Cons
The projector's input lag, around 67ms, is too slow for most gamers to enjoy.
---
Conclusion
Whether you decide on the LG HU85LA or the Optoma Cinemax P2, you won't be disappointed. Both projectors produce amazing images and come with flexible installations. They also boast plenty of features that make the projectors easy to use.
Even though the two models are similar, the Optoma Cinemax P2 is often the better option (>>> Find current price on ProjectorScreen). Images are clearer, it's slightly easier to set-up, and comes with all of the features you need to watch all of your favorite programming.
REFERENCES: