There is a lot to like about the Optoma Cinemax P1. Colors look great, it's easy to set up, and it has a lag time that casual gamers can't complain about. Now, Optoma has released its upgraded model. What consumers want to know is if the Optoma Cinemax P2 lives up to the hype (>>> Check how much does it cost on Amazon).
Both produce stunning picture quality and come with several of the same features, but there are also some differences. To find out which 4K laser projector is the best buy for your money, the Optoma Cinemax P1 vs P2, you need to compare them side-by-side.
Optoma Cinemax P1 vs P2 Specifications:
Optoma CinemaX P1
Optoma CinemaX P2
Resolution
3840x2160
3840x2160
Contrast Ratio
1,500,000:1
2,000,000:1
Brightness (Lumens)
3000 ANSI
3000 ANSI
Throw Distance
1.5' - 2.2'
1.5' - 2.2'
Screen size
85"-120"
85"-120"
Input lag
55ms
50ms
Wireless Connectivity
YES
YES
Price

Find on Amazon

Find on Amazon





Bhphotovideo.com
Even though both 4K laser projectors have similar features, and the P2 is built off of the P1, the differences could be the deciding factor in which one you take home.
Picture Quality
There were very few complaints about picture quality when Optoma introduced the P1 and there'll be even less with the P2. Both laser projectors boast 4K Ultra HD and are HDR compatible. You'll get a cinematic experience at home, whether you're watching a movie or playing a game.
While the P1 does have an impressive 1,500,000:1 contrast ratio, the P2 beats it with a 2,000,000:1. The lumens for both projectors is 3,000, but the higher contrast ratio in the P2 results in brighter images with a color spectrum that is 25% wider.
Colors are brighter, more accurate, and natural with the P2 model. Both projectors produce images with Digital Light Processing (DLP). The difference is in the size of the color wheel. The Optoma P1 uses an 8-segmented color wheel compared to the 6-segments on the P2.
The P2 reduced the size of the color wheel by eliminating the yellow segments. The smaller size produces vivid and more accurate colors without losing any brightness. You will notice an improvement in image clarity if you upgrade to the Optoma P2.
Better Image Quality: Optoma CinemX P2
Connectivity
If the laser projector can't be integrated into your home entertainment system or at least connect your devices, it's probably a waste of money.
You won't have any problems connecting your devices with either projector, both come with plenty of ports. You'll find multiple HDMI and USB ports, along with optical and audio outputs on the P1 and P2.
More Connectivity Options: Equal
Suitability for Gaming
Image quality is important for gamers. After all, if you can't see the level you won't be able to beat it. If you've tried to play a game when the images are dark and fuzzy, you know how frustrating it can be. What's even worse is trying to game with a slow lag time. Optimally, you want a lag time around 50ms. Lower if you are a serious gamer or frequently play fast-paced games.
Only the P2 projector comes with a gaming mode. It will decrease input lag from around 67ms to 50 – 55ms when the function is turned on. You might have to sacrifice a little image clarity, along with some smart features to see the improvement in lag time. You can improve input lag on the P1 by turning off a few functions.
When you turn off Pure Motion, Dynamic Black, and SmartFit you will notice your games running smoother. Along with a slight loss of details, you might also have to center the image again when you disable the SmartFit function.
Better Gaming Projector: Optoma CinemaX P2
---
Optoma CinemaX P1
When the Optoma P1 hit the market, movie enthusiasts and gamers were thrilled to find a short-throw 4K laser projector that was designed with them in mind. It does come at a higher price point than similar models, but it also has several features that are lacking on other laser projectors.
With an eight-segmented color wheel and 3,000 lumens output combined with a 1,500,000:1 contrast ratio, you won't have any complaints about image clarity. Colors are vivid and true to life, without any blurring. Even dark gaming levels will be clear so you don't have to worry about missing a treasure chest or stumbling into an ambush.
Movie fanatics will also appreciate the cinematic experience they get at home when they watch their shows on the Optoma Cinemax P1 laser projector.
If you've never set up a laser projector, you have nothing to worry about. Since it's designed for use in small spaces, you only need to place the projector 15" away from the screen to see 120" images.
There are plenty of ports to connect all of your devices, and it's small size allows you to place it almost anywhere. You'll appreciate the SmartFit app that will walk you through the simple set up steps that include centering the image on the screen. You do have to remember to disable the app when you're ready to start gaming. It will noticeably slow down lag time.
Pros
Built-in speakers
50 -55ms input lag
Easy installation
Vivid images
Clear images in ambient lighting
Cons
The projector does not come with a gaming mode.
The color-wheel can cause rainbows to appear on the screen.
---
Optoma CinemaX P2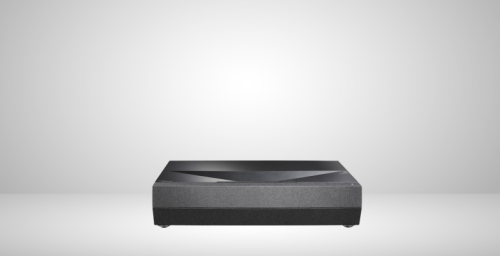 It's only been a year or so since Optoma introduced its P1 and now it's making waves again with the P2. Even though both projectors have several of the same features that include the SmartFit app, Pure Motion, and are compatible with Google Assistant and Alexa there are some improvements that will make you take notice.
The first thing you'll notice is the price. Even the P2 is considered an upgrade to Optoma's line of projectors, it's significantly less expensive than the Cinemax P1. It's also smaller in size and comes with a white casing, instead of black.
You'll also see an improvement in image quality. Along with a 2,000,000"1 contrast ratio, 4K definition, and HDR compatibility, it also comes with a smaller six-segmented color wheel. On the P2, Optoma got rid of yellow and concentrated on green, blue, and red. You'll see colors that are more natural, accurate, and vivid.
The P2 is not only marketed for movie lovers but gamers as well. It comes with a gaming mode that gives you an acceptable input lag of 50 – 55ms. You will have to disable the SmartFit app to drop lag time, but it's still easy to center images on the screen even when the function is turned off.
Depending on the game and your devices, you might also have to shut off the Slow Motion feature. You might lose some image brightness without the feature but it won't be enough to disrupt your gaming. Find the full review of the Optoma CinemaX 2 here.
Pros
Easy installation
50 – 55ms input lag
Bright, vivid, accurate colors
Built-in soundbar
Gaming Mode
Cons
To enjoy 4K images you must use a compatible screen that has ultra-short-throw ambient light rejecting technology.
The built-in soundbar may not impress audiophiles.
---
Conclusion
Even though both Optoma projectors will produce sharp, clear images, are easy to set up, and have acceptable lag times, the P2 comes out ahead (>>> Check how much it cost on Amazon).
It's 2,000,000:1 contrast ratio combined with the smaller color wheel gives you images that are true to life. Gamers will appreciate the gaming mode, and it's hard to argue about its lower price. While both models are a good deal for your money if you want the best you might want to look at the P2.
REFERENCES: