Smart 4K home theater projectors are almost complete entertainment systems in one convenient package. Along with producing stunning images, these projectors also boast plenty of connectivity and an internal computer. You can watch movies, listen to music, and put on presentations.
Two projectors that are capturing consumers' attention are the Optoma P2 and the Samsung LSP7T. Both come with a flexible installation, internal speakers, smart features, and cast 4K images. While the projectors are similar, there are differences.
The Optoma P2 produces brighter images and comes with a few more smart features than the Samsung LSP7T. Sound quality is also better with the PS. The LSP7T is easier to install, and you won't have any issues with image quality (>>> Check the current price on Amazon). Still not sure which model is best, here's a closer look at these smart 4K projectors.
Optoma P2 vs Samsung LSP7T Specifications:
Both projectors are priced similar and are not budget models. However, you do get plenty of features that make either one worth the price.
Image Quality
With 3840×2160 resolution, 4K images seem to come to life on the screen with either projector. The LSP7T comes with HDRO10+ technology and a Filmmaker Mode to optimize image colors. You get vibrant colors and smooth frame-by-frame action.
The P2 does produce a sharper picture with its 6-segmented color wheel and dynamic 2,000,000:1 contrast ratio. Compared to the 1,000:1 ratio on the LSP7T, there is a noticeable difference in image quality. The P2 also produces brighter images during daytime use.
Better Image Quality: Optoma P2
Ease of Installation
You won't have any problems with installation no matter which projector you bring home, though the Samsung LSP7T is a little easier. Compare to the 24lb Optoma P2, the Samsung model is lighter at 20lbs.
These are short-throw projectors making image alignment a breeze, but you need less space with the LSP7T. You need 12" to throw 100" images. You need at least 22" with the P2.
Easier Installation: Samsung LSP7T
Audio Quality
Sound quality is better with the Optoma P2. The built-in NuForce 40W soundbar has 2 drivers and woofers, along with ported chambers. Dolby Audio ensures a strong, clear signal so you hear a balanced sound across low, mid, and high frequencies.
The LSP7T comes with a 2.2 channel audio system. With 30W of power, the mid-range drives and woofers give you clear sound without any noticeable dead zones.
Better Audio Quality: Optoma P2
Smart Features
The LSP7T does offer more voice control options than the P2. It also works with Bixby, along with Google Assistant and Alexa. The operating system on both projectors is compatible with more streaming apps and makes them a breeze to use.
Where the P2 comes out ahead is with its IFTTT support and SmartFit app.
Better Smart Features: Samsung LSP7T
---
Optoma P2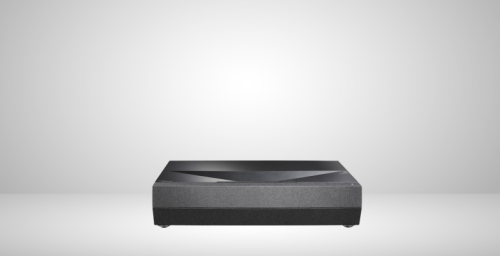 There's no shortage of smart features on the Optoma P2. You have Google and Alexa voice control, along with the SmartFit app and IFTTT support. It's a breeze to link the projector to your compatible external devices. The onboard Android operating system makes it easy to install your favorite streaming apps.
The SmartFit app ensures you never have problems aligning onscreen images. Vertical keystone correction and manual horizontal lens shift let you fine-tune the picture adjustment. The P2 is a sturdy short-throw projector, but you only need 22" of space for 100" onscreen images.
With a 3,000 lumens rating, it's not the brightest picture, but the laser light source can handle ambient lighting. You don't have to darken the room to use the projector during the day. A high dynamic contrast ratio combined with HDR10 technology ensures bright colors across the spectrum.
Pros
4K resolution
Short-throw distance
NuForce soundbar
Dynamic contrast
IFTTT support
Cons
You cannot mount the projector on the ceiling
The 6-segmented color wheel can produce rainbowing on darker sections of the screen
---
Samsung LSP7T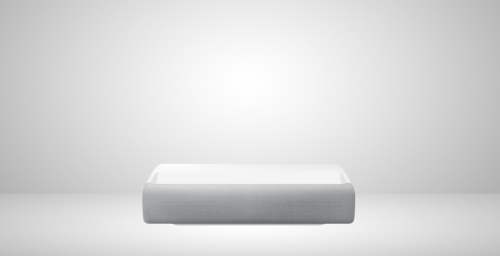 Purcolor and HDR10+ technology ensure realistic colors. Add in the Filmmaker Mode, and you can optimize images for cinematic quality. The optimization mode does help make up for the low contrast ratio. Blacks aren't as inky when the mode isn't turned on. The laser light source has a 2,000 lumens rating. It's not the brightest, but it's enough for day and nighttime viewing.
Where the LSP7T shines is with its throw ratio and easy setup. You need around 12" to cast 100" images. It's great for use in smaller spaces, and the multiple voice control options make operating the projector a breeze. It also comes with plenty of inputs for your external devices.
A 2.2 channel audio system gives you adequate sound quality. Bass won't boom, but you'll hear all of the frequencies with little to no distortion. A smart TV interface ensures you won't have any trouble using the projector. You can download streaming apps and watch the content on the projector. Click here for our more detailed Samsung LSP7T review.
Pros
Short-throw ratio
4K images
Multiple voice-control options
Smart TV interface
2 channel audio system
Cons
The lower contrast ratio can dull blacks and make whites appear less bright
There are fewer smart features compared to similar 4K projectors
---
Conclusion
You can't go wrong with either the Optoma P2 or the Samsung LSP7T. Both offer 4K resolution for vivid, true-to-life colors, and a short-throw ratio. However, the Optoma P2 does produce brighter, sharper images. You get more smart features and better audio with the P2 (>>> Check price on ProjectorScreen). The LSP7T is easier to install and use, especially in cramped areas.
Regardless of which smart 4K projector you decide on, you'll enjoy cinematic quality images at home.
REFERENCES: