Samsung has an impressive line of home theater projectors. You get stunning picture quality, along with a flexible setup. The projectors also boast plenty of extra features. It's not easy choosing between the various models, especially when you're comparing the Samsung LSP9T vs the LSP7T.
Both are short-throw projectors, with bright laser lamps. The LSP9T does produce a brighter picture with more definition (>>> Find price on Amazon), but the LSP7T isn't far behind. The audio quality is also impressive. It's not something you normally consider with a laser projector. The LSP9T does come with a better sound system than the LSP7T.
Samsung LSP9T vs LSP7T Specifications:
There's a lot to like about both Samsung projectors, and you won't go wrong with either one. However, one model might be a better fit in your home theater system.
They are similar in size, weight, and design. Both are solid, short-throw projectors. The specs are also almost identical, though some differences make one a better choice for you.
Image Quality
With a 4K resolution, you get sharp, clear images with both Samsung projectors. HDR10+ support ensures colors are accurate and vibrant. You'll see images the way they were meant to be viewed. Details are crisp in low ambient light, though you do get a brighter picture with the LSP9T. It has a 2,800 lumens rating compared to the 2,000 on the LSP7T.
You'll also notice the contrast is better with the Samsung LSP9T. While both models have a 2,000,000:1 dynamic contrast ratio, the three-channel laser on the LSP9T produces a brighter, more dynamic picture. Colors aren't faded in ambient light, which is a common problem with the LSP7T.
Better Image Quality: Samsung LSP9T
Ease of Installation and Use
The LSP9T is a little easier to install. It weighs 5lbs less than the 25lbs LSP7T. At 20lbs, it's not easy to move but the 5lbs does make a difference on outdoor movie nights. You also need a little less space with the LSP9T, though the inches rarely affects where you can use the projector.
You won't have any problems operating either projector. Google Assist and Amazon Alexa are standard with both. It's also compatible with streaming apps. Both are almost ready-to-go out of the box.
Easier installation: Samsung LSP9T
Audio Quality
It's not often that audio quality is addressed by a home cinema projector manufacturer. You'll get impressive sound with either model. It doesn't compare with a dedicated audio system, but the built-in speakers are a noticeable improvement over your TV.
You get a 2.2-channel system with the LSP7T. With two subwoofers and mid-range drivers, you get clear, powerful audio. The LSP9T does produce a better sound with its 4.2 speaker system. It also comes with acoustic beam technology for enhanced audio.
Better Audio Quality: Samsung LSP9T
---
Samsung LSP9T
The Samsung LSP9T is a compact short-throw projector. Weighing 20lbs, you can take it outside though be prepared for the weight. You need less than 5" to throw 100" images, making the projector ideal for use in small spaces. Move the projector 9" away and you can cast 130" pictures.
It's the lens, combined with the bright laser lamp and a dynamic contrast ratio that gives you amazing on-screen images. Colors are sharp, bright, and realistic, without any fading or bleeding. Add in HDR10+ technology, and you'll get true cinematic images with crisp details. The triple laser effectively counteracts ambient light like full moonlight and dim indoor lamps.
With a 4.2 channel audio system, you don't need to add external speakers. You get a clear sound at any volume. You also won't have any problems operating the projector. All you need is your voice. It comes with both Google Assistant and Amazon Alexa, along with Bixby. Click here for our more detailed LSP9T review.
Pros
Dynamic contrast
Power audio
Short-throw
HDR10+ technology
Triple laser
Cons
The projector does come at a higher price-point
You only have a few options when it comes to image adjustment
---
Samsung LSP7T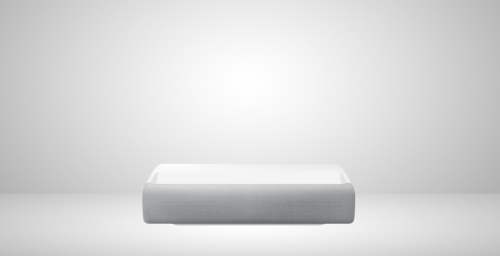 Combining HDR10+ and PurColor technology, the Samsung LSP7T produces realistic images. It also boasts dynamic contrast and 4K resolution to ensure crisp colors and details. The 2,200 lumens laser lamp is bright enough to use the projector during the day. You will want to try and dim the lights to prevent colors from appearing muted.
At 25lbs, it's not a lightweight projector even though it is compact. You also only need about 9" of space for 100" images. The LSP7T is great for apartments. You can even have movie nights in your dorm room. With Google Assist, Alexa, and Bixby, it's a breeze to operate the short-throw projector.
The 2.2 channel built-in sound system produces crisp audio across most ranges. There aren't any speakers to set-up. The projector is ready to go almost as soon as it's plugged in. Even though the speakers are only 30-watts, you'll be amazed at the audio quality. Click here for our more in-depth review of the Samsung LSP7T.
Pros
4K resolution
Voice control
Dynamic contrast
2 audio system
Easy installation
Cons
Aligning the images is tricky if the projector isn't centered on the screen
The laser lamp isn't powerful enough for all ambient light
---
Conclusion
Deciding between the Samsung LSP9T vs the LSP7T isn't easy. The laser projectors are similar. When it comes to price, you will pay more for the LSP9T (>>> Check price on ProjectorScreen). However, you do get improved audio and a brighter, sharper picture. You won't complain about audio and image quality with the LSP7T. It's also a little more budget-friendly for those that are concerned with price.