There's a lot to consider when you're searching for a home theater projector. Image quality is crucial, but there are other factors to look for. You want a projector that simple to operate, and the one you choose should also have plenty of ports. It's frustrating when you can't connect all of your external devices.
Two 4K projectors are worth taking a look at, are the Vava and Optoma P2. Both come with plenty of ports, though the Vava projector is the winner when it comes to connectivity. The VAV model is also a little easier to operate and boasts better sound quality. Where the Optoma P2 stands out is with image quality (>>> Check current price on Amazon).
While there's something to recommend with each of these projectors it helps to compare the two before you take one home.
Vava Vs Optoma P2 Specifications:
Taking a few minutes to compare the two projectors will ensure you choose the best one for your home entertainment system.
Image Quality
You'll enjoy immersive on-screen images with either home cinema projector. Colors are accurate and details crisp and sharp thanks to HDR10 support and 4K resolution. Even though the Vava has an impressive dynamic contrast ratio of 1,500,000:1 and a 2,500 lumens rating, the Optoma P2 still produces brighter and sharper images.
The P2 projector has a dynamic contrast ratio of 2,000,000:1. Blacks are deeper, richer, and whites crisper. With 3,000 lumens, ambient light isn't a problem. On-screen images are still bright and clear.
Better image quality: Optoma P2
Ease of Installation and Set-Up
These are both short-throw projectors and a breeze to set up. All you need is a little over a foot of space to cast 100" images. However, the P2 model makes it a little easier to align on-screen images with  Both components come with geometric correction and digital keystone correction, but the P2 from Optoma also boasts a digital zoom
If you want a home theater projector that will easily integrate into your existing smart system, you're better off with the Optoma P2 since it's compatible with IFTTT technology. You can stream content with both models, but the 7.1 Android OS on the Vava makes it easier to download your favorite streaming apps.
Wider image size range: Optoma P2
Sound Quality
Not all home projectors are known for their sound systems. Often the focus is primarily on image quality. The P2 model comes with a 40-watt soundbar by NuForce. There are two woofers and drivers that are supported by Dolby Audio 2.0. You'll enjoy clear dialogue, along with acceptable bass.
The Vava 4K projector produces immersive sound without distortion or signal interruption. The internal soundbar features a unique design that is similar to a 2.1 surround sound system. With 60-watts of power and Dolby Atmos support, you will get better sound quality with the Vava projector.
Better sound quality: Vava
Connectivity
You won't have any problems connecting your external devices with either projector. The Vava model comes with 9 ports for gaming consoles, DVD players, computers, and more. The P2 projector also boasts plenty of ports, though the Vava is slightly ahead.
Better connectivity: Vava
---
Vava
Pros
Flexible installation
Bright, accurate colors
Immersive audio quality
Multiple connections
Easy image alignment
Cons
The input lag is too slow even for casual gaming.
The Vava 4K is a short-throw projector with a flexible installation. When it's placed 2 -3 feet away you can cast 150" images on a compatible screen. If you're short on space, you can still get clear images from only 16" away. The picture is smaller but still crisp and bright. The combination of digital keystone correction and electric focus ensures you won't have trouble aligning images on the screen.
The lower lumens rating still ensures a bright picture, but images will look best when most ambient lighting is blocked. However, the 3-segmented color wheel ensures colors are accurate and realistic.
You'll quickly learn that the Vava 4K home theater projector has two primary strengths. One is its connectivity. Along with 9 ports, it also comes with the Android 7.1 OS. You can download your favorite apps and channels and stream the content directly to the projector.
The other strength is its internal Harman Kardon soundbar. You get impressive audio quality through all ranges at almost any volume level.
---
Optoma P2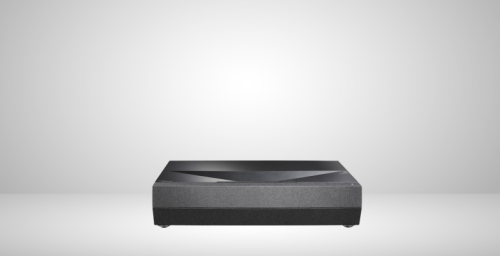 Pros
Dynamic contrast ratio
Accurate, vivid colors
Acceptable input lag
Voice control compatible
Flexible installation
Cons
There isn't any support for content streaming.
You'll love how easy the P2 projector is to install. It is an ultra-short-throw project that needs less than 2 feet of space for 100" images. Automatic lens focus ensures clear images, and it also features keystone correction and manual zoom. For even easier image alignment, download the SmartFit app to your Android or iOS mobile device.
The projector is a breeze to integrate into your smart entertainment system. It's compatible with Google and Alexa voice control. It also boasts IFTTT technology for additional support.
Dynamic contrast and a 3,000 lumens rating ensures bright, immersive images. Colors are vivid and accurate, with rich blacks and bright whites. Images are still clear even in ambient lighting so you don't have to worry about blacking out the room.
While the input lag at 50ms isn't impressive, it's still acceptable for casual gamers. Levels are detailed, even in darker scenarios so you can see opponents or hidden treasure chests. With the addition of PureMotion technology, the action is smooth frame by frame. Click here if you want to read our full review of Optoma CinemaX P2
---
Conclusion
There's a lot to recommend with each projector and it often comes down to what you want when you're comparing the Vava vs the Optoma P2. The Optoma P2 does have better image quality and is voice-control compatible. It also has an acceptable input lag for casual gamers (>>> Check current price on ProjectorScreen).
However, the Optoma P2 does have better audio quality and built-in content streaming capabilities. Whichever model you choose,  you are getting a great 4K home theater projector.